Friday, April 07, 2006
Nara, the Ancient City
On the way to Kyoto, we made a visit to Nara. A city between Kobe and Kyoto.
Nara, or Heijo (its initial name), was Japan's first permanent capital. The city was established in the year 710. Where were you at that time?
Because of its past, being the first permanent capital, it remains full of historic treasures. The city is a proof of Buddhist monasteries' influence over the government. Some of Japan's oldest Buddhist temples can be found there.

When we went to Nara, it was cloudy and cold. Soon, the rain fell down, so we couldn't explore the city more. We only visited TODAIJI Temple.

Todaiji ("Great Eastern Temple") is one of Japan's most famous and historically significant temple. It is also the landmark of Nara. Todaiji was constructed in 752 as the head temple of all provincial Buddhist temples of Japan. It grew so powerful that the capital was moved from Nara to Nagaoka in 784 in order to lower its influence on government affairs.

Todaiji is famous for housing Japan's largest Buddha statue (Daibutsu). It is also the world's largest wooden building, even though the present reconstruction of 1692 is only two thirds of the original temple's size.

The front yard of the temple. The forest around is full of wild deer. The city lets the wild deer walk around freely. And I mean FREELY, everywhere.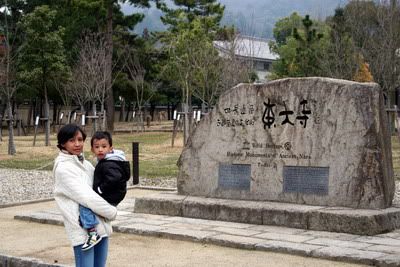 The main gate, behind: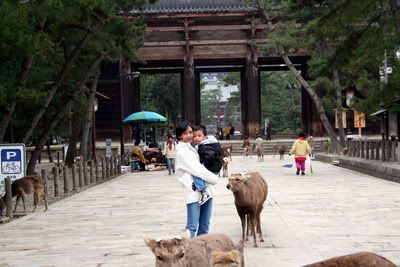 The famous Todaiji. Inside there is Japan's largest Buddha statue: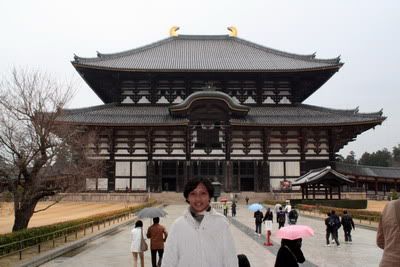 The big Buddha statue: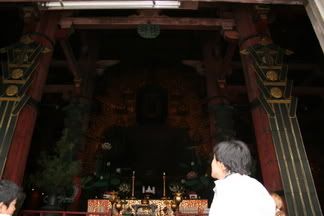 Drink the pure water. They say it brings you luck. I say it frees me from thirst :)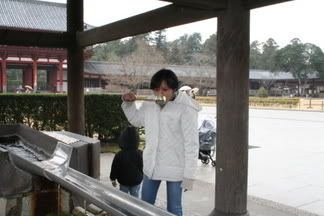 The deer are so friendly, but still wild. Hikari got knocked off by one of them. Bleeding from mouth, Hikari made his point that he didn't want to even talk about deer anymore.
Deer? What's that?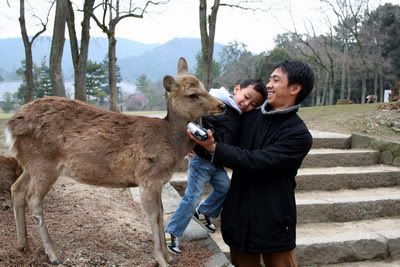 This is a real acting. I was scared to death: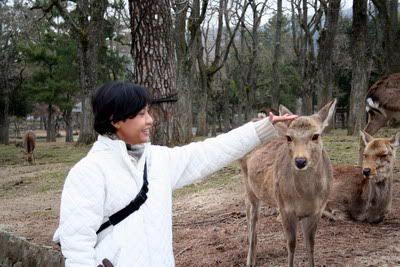 The real animal lover: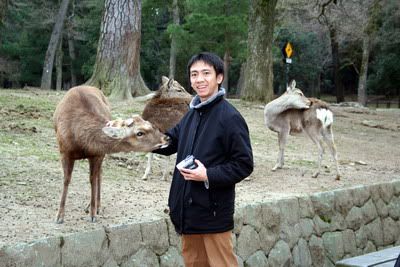 The city was small and serene. It is also green with mountains and forests. It suits the temples much. I'd call it a temple city. Do you need to get away from the routine and hectic life? Do you need to find serenity and to find the Zen in you? This city is just perfect! (Although Honjo offers relatively the same thing, I think).

written by: Mariskova
posted by Mariskova @ 3:26 PM



The Doer

REZA? SAYA!
Eja? Anca? Reza? Ring any bells? Yup! That's me!
A Brief Overview
A master student of the Graduate School of Global Information and Telecommunication Studies at Waseda University, Japan.
A fellow of the 2004 Japanese Grant Aid for Human Resource Development Scholarship (JDS) Program.
An employee of one of state-owned Indonesian banks.
Check These Also!
Archives
You Say What?
My Album

Must-See
Stopping By
On The News
Thanks for Visiting!
Gratitude