Saturday, April 08, 2006
Kyoto 1: Kiyomizudera and Around
Kyoto was Japan's capital and the emperor's residence from 794 until 1868. Usually mentioned as an ancient city, it is now a city with a modern face.
Over the centuries, Kyoto was destroyed by many wars and fires, but due to its historic value, the city was not chosen as a target of air raids during WWII. Countless temples, shrines, and other historically priceless structures survive in the city today.

Kiyomizudera was our first trip in Kyoto. We had a good tourist guide: Om Puguh, who freed us from confusing decision of where to go in Kyoto. Kyoto is unbelievably a city with so many things to see!

Kiyomizudera ("Pure Water Temple") is one of the most-famous-and-talked-about temple of Japan, and was founded in 780. Kiyomizudera stands in the wooded hills of eastern Kyoto and offers visitors a nice view over the city from its famous wooden terrace. Before we can reach the temple area, we have to walk (climb, to be exact) along the steep and busy lanes of Higashiyama district. I was tempted to ride on a rickshaw, but took pity on the driver because it was such a long and steep lane, while he was such a skinny rickshaw driver:(
Along the lane, many souvenir shops and restaurants stand next to each other. Quite an interesting view.

Left: The front gate, the plum, and the take-my-picture-here-and-there girl.
Right: The two of us and the main building behind. Which one is worth picture-taking?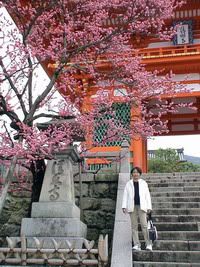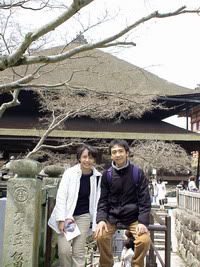 At the other face of Kiyomizudera. See a phographer behind? Believe me, she wasn't taking picture of me. Can't figure out why, though ;b



The main complex, behind. We are on top of a mountain!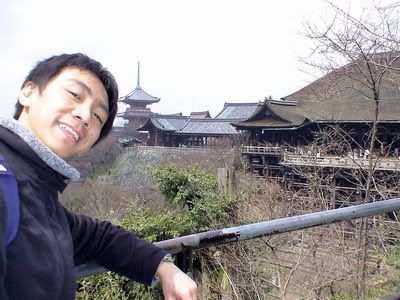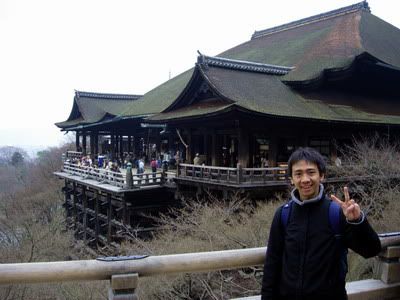 The view of Kyoto, behind. When sakura is in full bloom, from this place, the sight of it is breathtaking: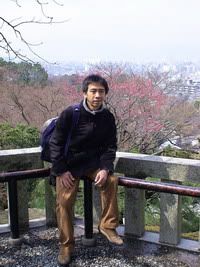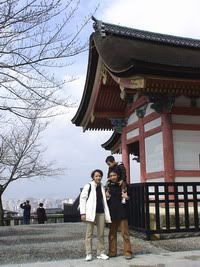 Write your wishes on this small wood, hang them together here. The priests will pray for your wishes every morning.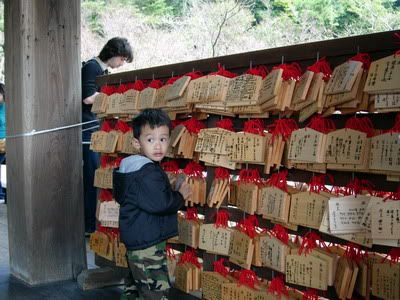 Below the terrace, we can taste the spring water, which gives the temple its name and which is said to have healing power.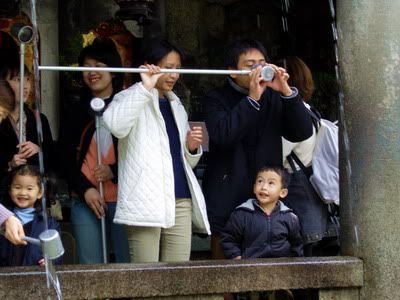 Behind Kyomizudera's main hall stands Jishu Shrine, a shrine dedicated to the deity of love. In front of the shrine are two rocks, placed several meters apart from each other. Successfully walking from one to the other rock with your eyes closed is said to bring luck in your love live.

Love Stones: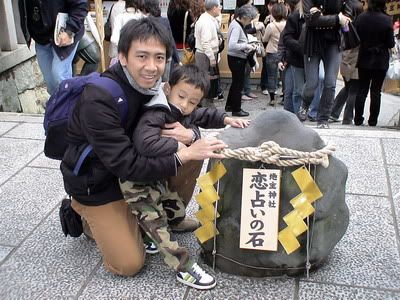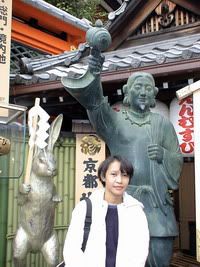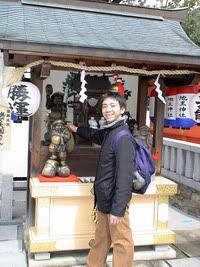 Papap and our guide, Om Puguh.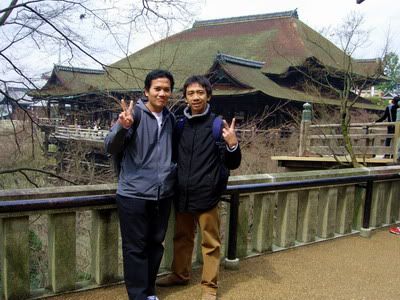 From Kiyomizudera, we walked along old lane and alleys, through old houses, to the next spots: Yasaka pagoda and Yasaka shrine.

Old lane and alleys. Old houses. They create a maze around temples.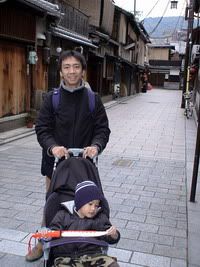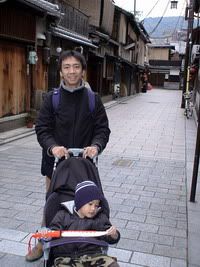 Yasaka Pagoda, up close and far away: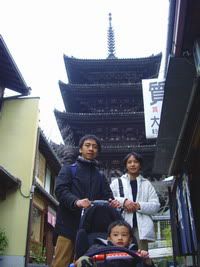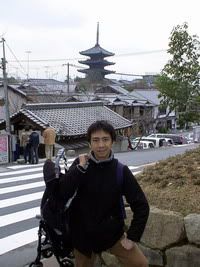 Yasaka Shrine below is also known as Gion Shrine. It is famous for its Gion Matsuri, one of Japan's largest festivals. The many lanterns that decorate the shrine's stage are lit after dark and bear the names of their sponsors.

Yasaka or Gion Shrine: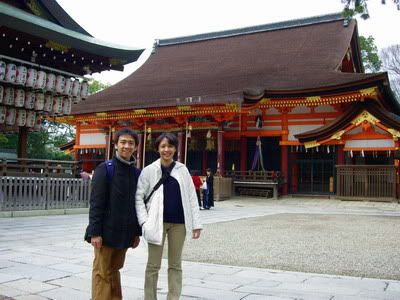 Located just next to shrine grounds is Maruyama Park, Kyoto's most popular spot for enjoying Cherry blossoms in spring. Unfortunately for us, it wasn't time yet for the cherry (sakura) to bloom :( The sakura trees were still bare, without flowers and leaves.

Maruyama Park: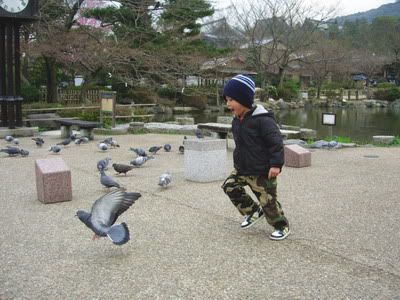 Next spot was the famous Gion. Gion is Kyoto's most famous Geisha district. We 'tried to' stroll along Hanami-koji, a street lined by beautiful old buildings, teahouses and restaurants, to experience the traditional Gion. We saw some beautiful Japanese girls in their Kimonos, but we weren't sure if they were actually geisha(s). We just couldn't ask them directly, could we?
Om Puguh told us that the movie 'Geisha' was made here too.

Well, the first day in Kyoto was really something. Of course it was tiring, but it was worthed. Including the time when we walked around and around Gion district for half an hour to find an 'eatable' restaurant! We bravely jumped into an Indian restaurant (the first time in our life!), and relieved because it served Halal food...

Okay, Kyoto page is not finished here, yet. Check the next Kyoto 2!

written by: Mariskova
posted by Mariskova @ 4:13 PM



The Doer

REZA? SAYA!
Eja? Anca? Reza? Ring any bells? Yup! That's me!
A Brief Overview
A master student of the Graduate School of Global Information and Telecommunication Studies at Waseda University, Japan.
A fellow of the 2004 Japanese Grant Aid for Human Resource Development Scholarship (JDS) Program.
An employee of one of state-owned Indonesian banks.
Check These Also!
Archives
You Say What?
My Album

Must-See
Stopping By
On The News
Thanks for Visiting!
Gratitude