Friday, April 14, 2006
Kyoto 2: Kinkakuji
Late in the afternoon when we were finished 'absorbing' Kiyomizudera, Yasaka shrine, Yasaka Pagoda, Kyoto ancient alleys and houses, Gion, and Indian restaurant, we went straight to Kinkakuji, a temple with spectacular wall decoration. I say spectacular because the wall is covered with GOLD!

Kinkakuji or the Golden Pavilion is first constructed in 1397 as part of a new residence for the retired shogun Ashikaga Yoshimitsu. Kinkakuji was converted into a Zen temple after Yoshimitsu's death in 1408 by Yoshimitsu's son.

The pavilion gives an impressive sight when its silhoutte touches the lake below it. It looks like there is twin pavilion. One above the lake, the other is below.

Front side (left) and Back side (right) of the pavilion: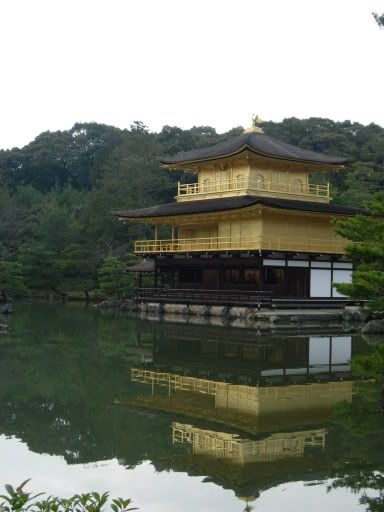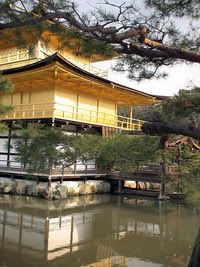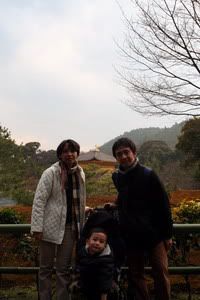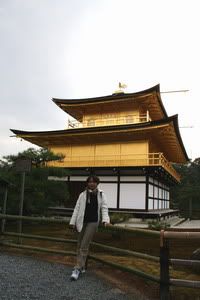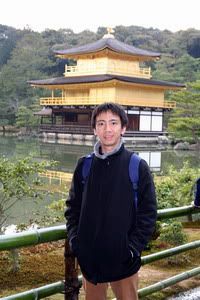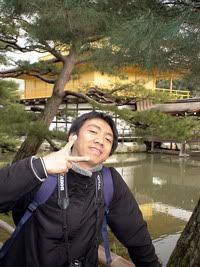 Papap, Hikari and Om Puguh. Some of the pictures here were taken by Om Puguh.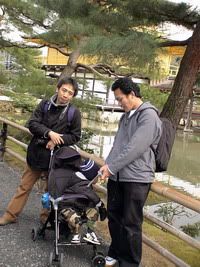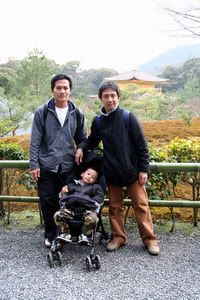 As a retirement pavilion, the temple is also surrounded by beautiful garden: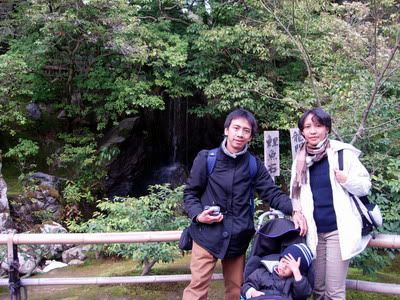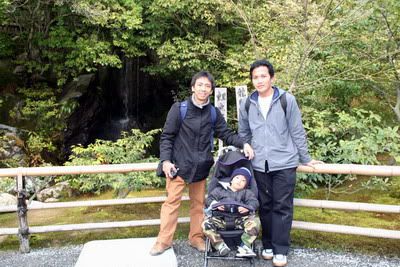 The house with moss on the roof. Taken by Om Puguh. Nice pic, Om!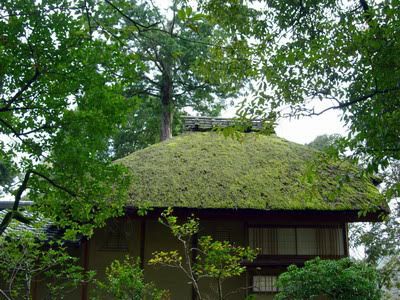 This temple also serves as a model for another temple: Ginkakuji or Silver Pavilion. But, we didn't have a chance to see it.

After we were done in Kinkakuji, we met Papap's friend, Om Imtihan, and visited his apato.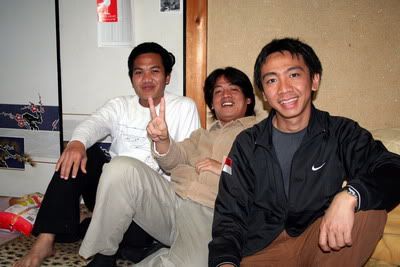 It was really a nice day, especially with friends around :)
posted by Me-Reza @ 6:01 PM



The Doer

REZA? SAYA!
Eja? Anca? Reza? Ring any bells? Yup! That's me!
A Brief Overview
A master student of the Graduate School of Global Information and Telecommunication Studies at Waseda University, Japan.
A fellow of the 2004 Japanese Grant Aid for Human Resource Development Scholarship (JDS) Program.
An employee of one of state-owned Indonesian banks.
Check These Also!
Archives
You Say What?
My Album

Must-See
Stopping By
On The News
Thanks for Visiting!
Gratitude