Saturday, August 26, 2006
Safari Park in Gunma: How and What
Ever been to Cisarua Safari Park, Indonesia?
Okay, imagine that place in your mind, only add more heat (like 38 degrees) and reduce the number of animals... there, you will have an exact picture of Gunma Safari Park. No kidding!

Interested in visiting Japanese Safari Park (brochures and website are to be blame) and obliged to fulfill my promise to my son, I took my family to Gunma Safari Park. After studying the website and asking for some information about it, we were ready to go. We were even more eager to go because the website said there was Indonesian festival in the Park. Okeee deh...
Let me just share the how and the what...

First, Gunma Safari Park is located in Gunma-ken (prefecture), a neighboring prefecture of Saitama. So, you take the train bound to Takasaki. From Honjo to Takasaki is about 30 minutes by train and the cost is about 320 Yen. When you arrive in Takasaki station, find ZERO Platform. Weird? You'll see the sign, don't worry. Or, just look at the picture on the left!
See? It says 0 (zero) platform. It is just a small platform.
There, you buy a ticket to Jyoshu Tomioka Station for 770 Yen. You'll take the train named Jyoshin Dentetsu. You won't miss it because there is only one train, one platform, and the train is colorfully painted. After 40 minutes ride in that train, you'll arrive in Jyoshu Tomioka Station. It is very small with only one or two officers guarding.

The train is usually empty, even in holiday season. You can pick the best seats. The spoilers are it runs very rough (blame the railway or the train?) and the stations' map/names are all in Kanji. So, I suggest you be friendly with your neighboring passenger and ask him or her...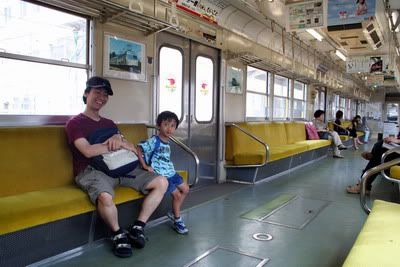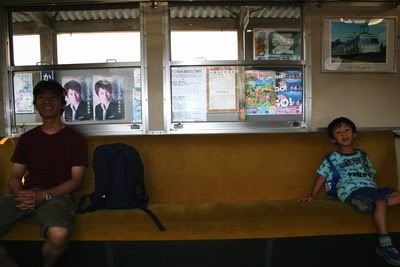 When you arrive in Jyoshu Tomioka, don't bother to find a bus to the site because there isn't any. Go outside the station and turn left. You'll see a taxi pool and the drivers will be very happy to take you to the Safari Park. From the train station to the park, it takes 15 minutes and about 1900 Yen. The driver will give you some brochures with discount card on it. Well... our driver did. The driver would also give you his name card so that you could call him if you want to return to the train station. Believe me, you'll need his name card.

The Park fares are 2600 Yen for Adult and 1300 Yen for children, and in the entrance gate, you buy a ticket for your ride. Yes, you've got to buy this because it is not allowed to walk around the park for obvious reason: the lions and tigers are there!
The tickets are:
1) 1300 Yen for animal shaped bus.
2) 500 Yen for usual Safari bus.
3) 1300 Yen for Ranger car.
4) 1400 Yen for your own car.
5) 2400 Yen for rental car.

Want to see bus number one?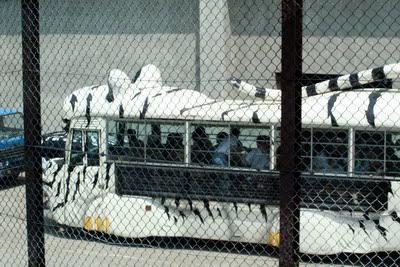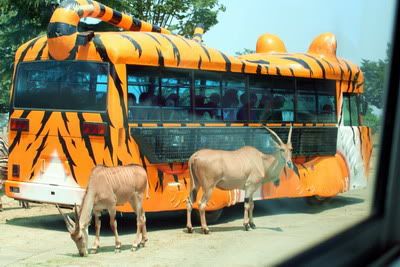 We took bus number 2 because bus number 1 already left. It was fun and cool anyway.

The first ride we saw the 'harmless' animals like these: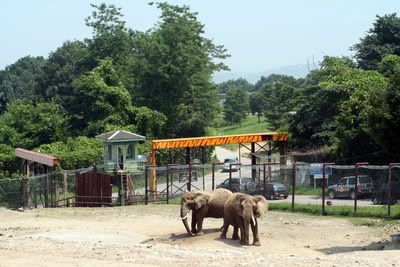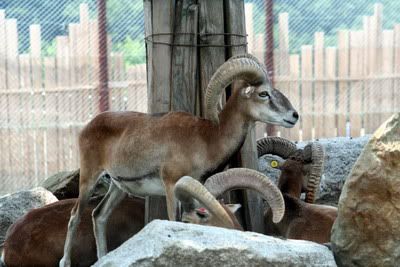 And then the bus stops for 30 minutes for the guests to feed the animals. Children can touch and feed the animals here: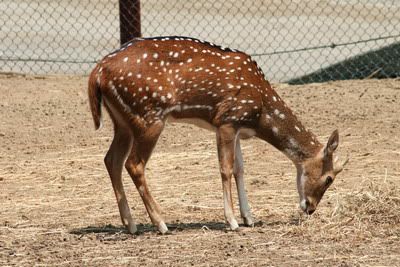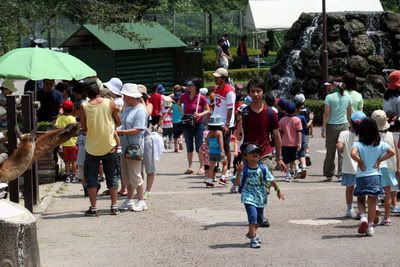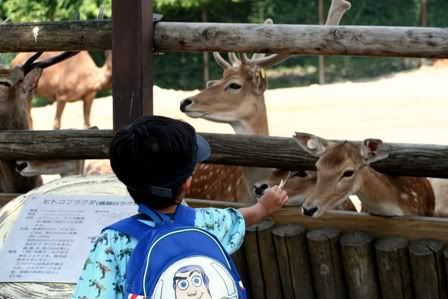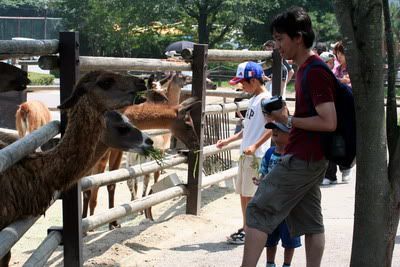 100 Yen for the food!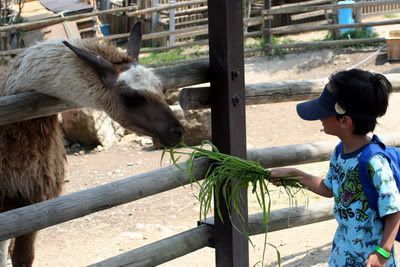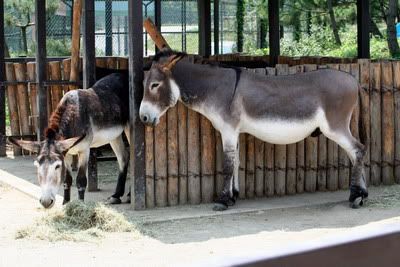 After 30 minutes, the tour bus will start again. This time to see the lions and tigers. I must admit that the lions and tigers here look a lot fatter than in Cisarua... May be that's why they didn't care about us at all.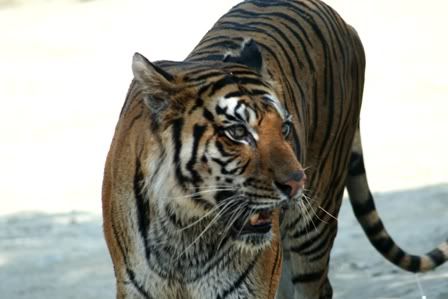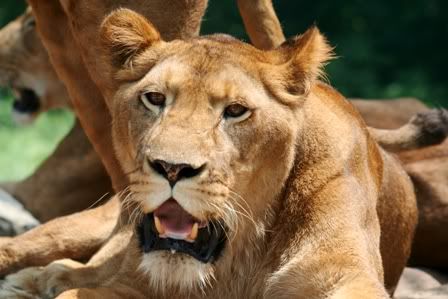 Soon, the trip is over. You can play in the theme park. They get roller coaster, Ferris Wheel, Merry-go-round, and everything.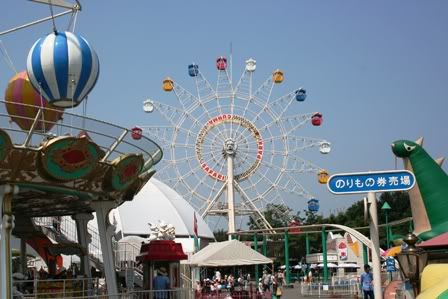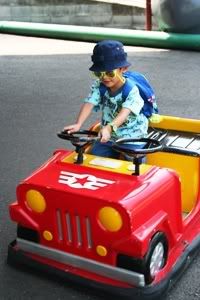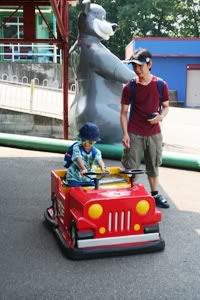 We visited the Indonesian hall. They have corners to take pictures with Indonesian animals (tiger and orang utan). Don't worry about the tiger. It is so fat that it won't even open its eyes to look at you! All the officers there wear Cisarua Safari Park's uniforms, but there was only one Indonesian guy in the hall. How do I know? He is a LOT darker than the others :D
In that place you can also buy Indonesian souvenirs. As if. But the souvenirs are really from good quality.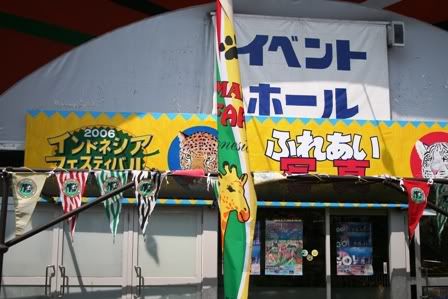 And then, for lunch, you can eat at the local restaurant. The place is quite nice and the food is edible for us. The only problem is the price. There are two Indonesian food: Sate and Nasi Campur. How do they taste? Well... Japanese taste, of course. They were okay if you don't expect the original taste.

Nasi Campur ala Japanese: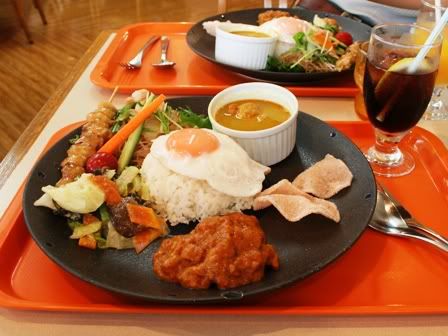 After lunch, you can visit the souvenir shop which is in the same building with the restaurant. For the ride home, we asked the shop keeper in the souvenir shop to call the taxi driver. He came 10 minutes later and he brought us back to the small empty station where we waited for the next train.

Jyoshu Tomioka station: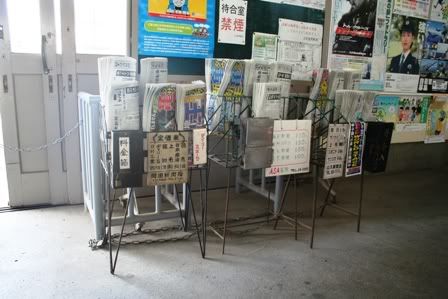 How do we like the trip? It was hot (VERY), but it was fun. It was not as big as Cisarua Safari Park nor as beautiful. But, it was still fun for the kids. That's what matter most, isn't it? If you decide to visit the Park, choose Spring or Fall instead of Summer or even Winter!
Have fun!
posted by Me-Reza @ 5:55 PM



The Doer

REZA? SAYA!
Eja? Anca? Reza? Ring any bells? Yup! That's me!
A Brief Overview
A master student of the Graduate School of Global Information and Telecommunication Studies at Waseda University, Japan.
A fellow of the 2004 Japanese Grant Aid for Human Resource Development Scholarship (JDS) Program.
An employee of one of state-owned Indonesian banks.
Check These Also!
Archives
You Say What?
My Album

Must-See
Stopping By
On The News
Thanks for Visiting!
Gratitude