Monday, April 17, 2006
Kyoto 4: The Last Day
We started late today because we wanted to stay as long as possible in the hotel. Why? This time, we travelled back to Honjo by bus, not Shinkansen. And the bus was scheduled to leave Kyoto around 10 PM. The check-out time was 11 o'clock and after that we would have no place to rest. That's the case.



Kyoto Imperial Palace


To kill time, and to finish up (almost) every tourist object in Kyoto, we first went to Kyoto Imperial Palace. The Palace is located right in front of our hotel.

Hotel Palace Side Kyoto with Papap in front of it: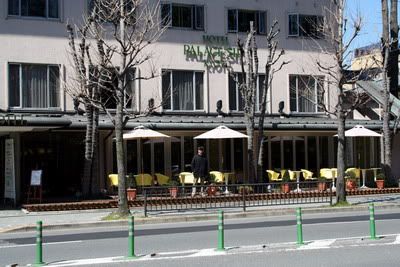 An old house right next to the hotel with Sakura blooming. We imagined that this house was used to be the house of some samurai... *yeah, right*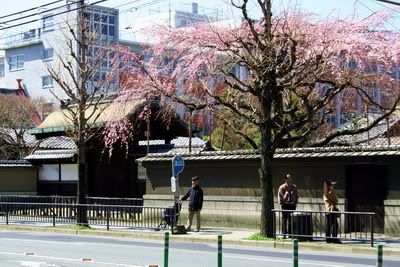 The GATE of the Kyoto Imperial Palace: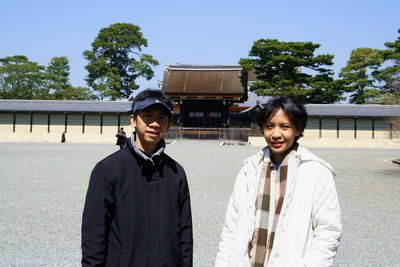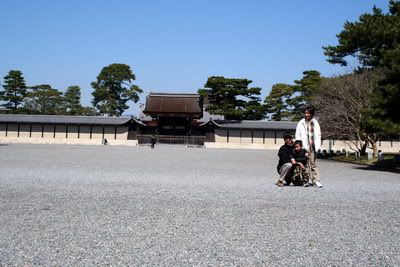 The Imperial Palace is located in the spacious Kyoto Imperial Park. This park is open for public. Many people were enjoying Sakura when we were there, although the flowers were not yet in their best view. The park itself is very very very large, and that is the problem. We couldn't figure out which one was actually the main building :(

The Imperial Palace used to be the residence of the Imperial Family until 1868. After that the emperor and Japan's capital city were moved to Kyoto. The palace complex is surrounded by a long wall and consists of several gates, halls, and gardens. No wonder we were lost. The gate itself is installed with an alarm. If someone is dare enough to walk closer to the gate, it will alert the guards. FYI, we didn't try this out, though.
After spending an hour in this palace (or park), we left. We were too tired from walking around the park looking for the palace, and we were bored too because we couldn't find it. The palace can only be visited on guided tours held by the Imperial Household Agency. For this we didn't have time to make the reservation needed.



Heian Shrine


Our next stop was the Heian Shrine which was built in 1895. The shrine was built to dedicate the first and last emperors that reigned from Kyoto, Emperor Kammu and Emperor Komei. The buildings are mostly painted with red and some are green and gold. Really a magnificent view. The buildings of this shrine are a partial replica of the Imperial Palace of the Heian Period. When we were there, several families brought their babies here. They held some kind of ceremony with priest for these newborns. It looked like the babies were 'baptize' here. In Shinto's way, of course.

The front gate of Heian Shrine: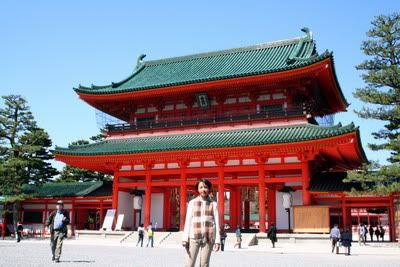 The left side building is used as the photo background after a family and its baby finishes with their ceremony. The right side picture is an identical building as the left: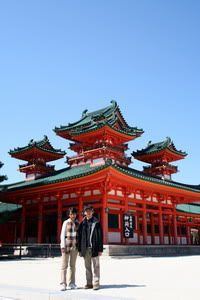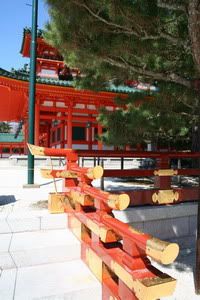 Papap in front of the main building: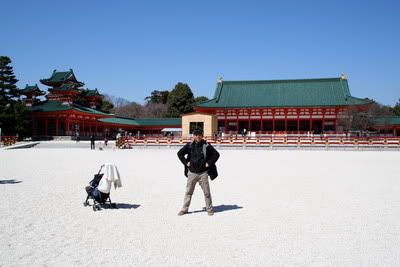 Behind the main building, there is a really pretty garden. It is big and beautiful with trees, flowers, and ponds. Too bad, again, it was not time for Sakura to bloom yet. Apparently, however, Papap was enjoying the garden very much...

The pond: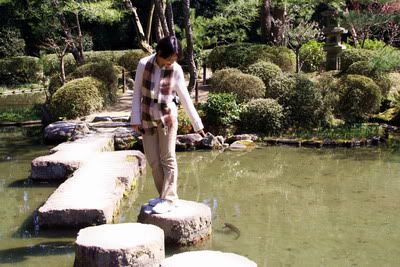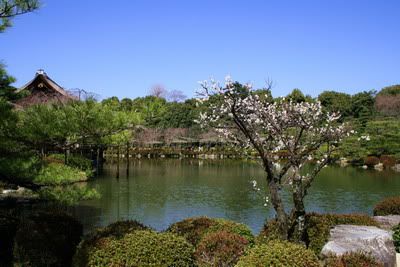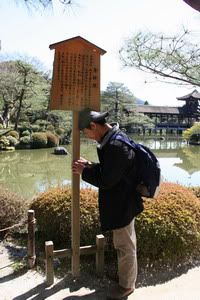 On our way out: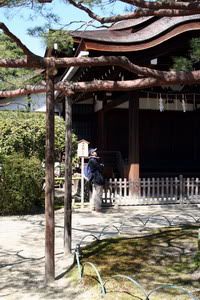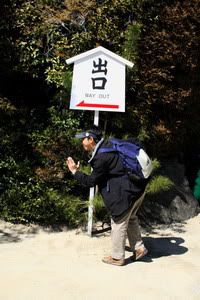 Stepping out from this gate means we are out of the garden. Back again to the main yard. In this front yard, there is a bamboo house made for a tree full of oranges. We still have no idea why they housed the tree like this. Well, we could have any ideas if only we could read the kanji written in front of the house...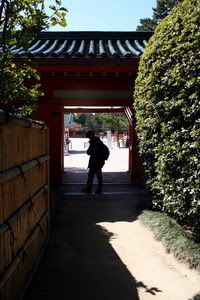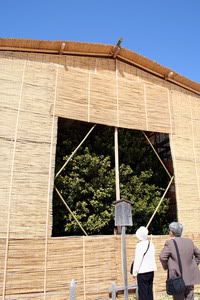 Stepping out of the shrine, we could see a giant gate on the far side opposite the Shrine's main gate. The gate is called Grand Shrine Gate made of Ferro-concrete structure built in 1929 with diameter 3.63 meters, height 24.2 meters, length of top rail 33.9 meters.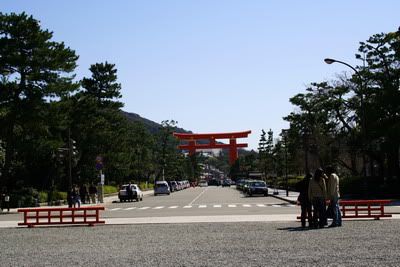 Here is Om Puguh in front of the shrine trying to find our way to the Kyoto zoo:





Kyoto Zoo


From the Heian Shrine, we walked again to the city zoo. It is near, and it was just fair for Hikari to have his fun after being so cooperative in the last days running up and down temples :)
Kyoto Municipial Zoo is the second oldest in Japan. It opened in April 1903. The zoo is small for it is a municipial zoo, but it is relatively fun and its collections are varied, more than 800 animals from over 200 species. We spent more than 3 hours here (or 4?). Hikari was busy running from one animal to another, Papap was busy tailing Hikari, Om Puguh was busy taking pictures, and Mama was busy reading her new chicklit under a tree...

This cage is for HITO meaning MAN, one of the animal species. Nice joke, guys!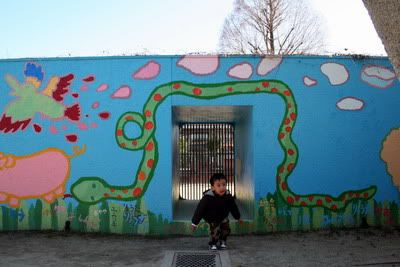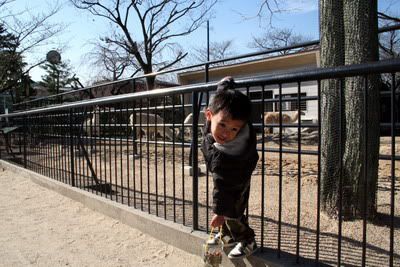 Hikari with his default smile: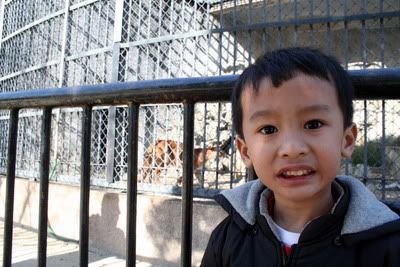 Kyoto Eki and Kyoto Tower


It was late in the afternoon and early in the evening when we rode the bus to Kyoto Eki where our bus to Honjo would park. We still had time before we departed so we browsed the omiyage stores and climbed up to Kyoto Tower.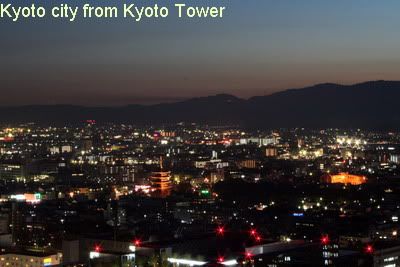 To tell you the truth, Kyoto Eki (station) is a real contrast to the traditional parts of the city that we visited before. It is relatively new because it opened in 1997 and the architecture is modern. Quite a relief for me because modern buildings mean modern toilets :(
However, finding a restaurant that wasn't packed with people eating or lining up was a difficult thing to do here. We walked around for some time and finally was able to find one where it didn't have a long queue.
When we had finished dinner and planned to take the bus, Papap just realized that he didn't have the bus tickets with him. The tickets were put in his small bag, and the bag was already in its way to Honjo through delivery service! Way to go, Pap :) Fortunately, it was all settled in the end. We could safely return home to Honjo. There is no place like home...

Yup, we had finished our vacation. Don't know if we can ever return to the places and cities we have visited. But one thing for sure, we really had a great time, no matter what. And one of the things that make this trip enjoyable and great and fun is because of our friends. Thanks a million to Tante Hesti, Om Murdi, Om Puguh (who became our fulltime guide in Kyoto), Om Imtihan, and Om Widi. When you decide to visit Honjo, we'll be ready! And that's a promise!

See this for further info: Heian Shrine
posted by Mariskova @ 3:32 AM



The Doer

REZA? SAYA!
Eja? Anca? Reza? Ring any bells? Yup! That's me!
A Brief Overview
A master student of the Graduate School of Global Information and Telecommunication Studies at Waseda University, Japan.
A fellow of the 2004 Japanese Grant Aid for Human Resource Development Scholarship (JDS) Program.
An employee of one of state-owned Indonesian banks.
Check These Also!
Archives
You Say What?
My Album

Must-See
Stopping By
On The News
Thanks for Visiting!
Gratitude